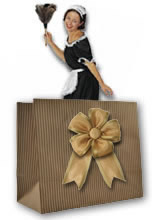 Housecleaning Makes a Great Gift!
Housecleaning Gift Certificates
Housecleaning Gift Certificates Are for Almost Anyone. Looking for the perfect gift for nearly anyone? Birthdays, Anniversaries, Mother's Day, Father's Day, New Baby, Housewarming, Year-End Holidays, or "Anytime Just Because" are all good times for housecleaning gift certificates.
Housecleaning Gift Recipients and HomeLife Service Areas. Make sure that the recipient of your housecleaning gift certificate lives in one of our service areas (see "Areas Served" to confirm).
Housecleaning Gift Certificates Are Easy.You can call us to get our rates, and order by phone. Or fill out the form below, and we will send you a quote with a link to PayPal's Secure Payment Gateway to complete your order once you approve the quote. PayPal's Secure Payment Gateway accepts all major credit cards, including Visa, Mastercard, Discover and American Express, and it only takes a few minutes to complete your order. Once we receive confirmation of your order from PayPal, we will mail the housecleaning gift certificate to you by regular First Class mail unless otherwise instructed. Gift certificates are available for two hours and up. Fields marked with an * are required. Privacy Policy