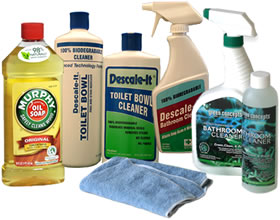 How Does HomeLife
Help Protect My Health?
"Green" Cleaning
Housecleaning Products That Are Safe. We believe in preserving the environment and contributing to your health and the health of our housekeepers by using the safest products available for effective cleaning. The housecleaning products we use include the following:
Green Concepts™ Products
Housecleaning Products with EPA, Green Seal and EcoLogo Certification. Beginning with the discovery of the cleaning power of ocean kelp, these housecleaning products utilize naturally derived and sustainable ingredients to safely remove grease, dirt, grime, mold, soap scum and hard-water deposits from mirrors, counters, sinks, appliances and fixtures. Green Concepts™ products carry a number of certifications, including the EPA's Design for the Environment, Green Seal and EcoLogo. These certifications include the most concentrated formulation of Green Concepts™ products — something that is not true for many housecleaning products that are only certified as "green" and nontoxic after they are diluted. Green Concepts™ products also are approved by PETA and are kosher. All housecleaning products from Green Concepts™ must meet a "Safe and Superior" standard before they will be sold. This standard exceeds industry standards.
Descale-It Products
Housecleaning with Biodegradable Products. Descale-It products utilize glycolic acid, derived from sugar cane, to safely and effectively remove soap scum and mineral scale. Approved by Scientific Certification Systems, these biodegradable housecleaning products break down into carbon dioxide, basic minerals and water.
Murphy's Oil Soap
Housecleaning for Your Health. This housecleaning product carries the EPA's Design for the Environment certification.
Microfiber Cloths and Mop Pads
Housecleaning Cloths and Pads with Less Chemicals. Microfiber will absorb seven times its weight in liquid. When dry, it naturally attracts dust. When wet, it attracts water and oil. It has a microscopic scrubbing action but does not scratch soft surfaces. These properties make microfiber superior for housecleaning. In fact, microfiber cloths and pads clean so well that less cleaning chemicals are needed to remove dust and dirt.
Disinfectant Chemicals. It should be noted that, since they kill bacteria, disinfectant chemicals cannot carry "green" certification. However, Green Concepts™ makes a disinfectant cleaner that is considered safe and effective but is necessarily without EPA or Green Seal certification.