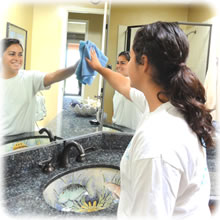 Your Best Value in Housecleaning!
HomeLife understands how important your home is to you. We bring you an established reputation for quality housecleaning services you can trust. Unlike referral agencies and independent cleaners, HomeLife is not only licensed and bonded, but we also provide you with the important protection of liability insurance against accidental property damage and crucial workers' compensation insurance in case of injury on the job. We employ no undocumented workers and shun subpar staffing "on the cheap." Our housekeepers are skilled professionals — some of whom have been with HomeLife for over 10 years. You can be confident that our housekeeping staff has been carefully selected, screened and trained for your security and peace of mind.
There's no place like home . . . but creating a pleasant home environment is a demanding, full-time job. Housecleaning from HomeLife is just what you need to help keep your house a "home." When you choose HomeLife, you become part of our valued customer "community," who enjoy the friendly, personal attention to cleaning service for which we are known. HomeLife's guarantee of quality assurance stands behind our commitment to provide you with the finishing touch that says, "Welcome home!"